By Julia O'Malley with Anchorage Daily News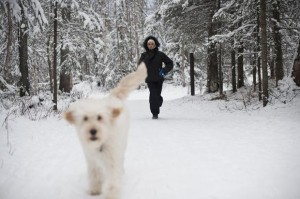 If you're in the habit of running on East Anchorage trails in the winter, then you might have passed a compact, dark-haired doctor named Joanie Hope, jogging slowly with her headphones on, singing.
Hope's day job is grueling.She runs to clear her head. She is Alaska's only gynecologic oncologist.
Her patients have "down there" cancers, cancers people don't like to talk about of the female reproductive system — ovarian, fallopian, uterine, endometrial, cervical, vaginal, vulvar.
Want to freak yourself out, ladies? Google gynecologic cancers. Many of them, ovarian in particular, are pretty lethal. Eighty thousand women will be diagnosed with gynecologic cancers this year. A third will die. The scariest part is how hard some are to detect.
Ovarian has subtle symptoms, such as bloating or constipation, that women and their doctors may not take seriously until the cancer is advanced. And there's no routine screening. So even if you see your doctor regularly, unless you're really paying attention and you know what to look for, you could have an aggressive cancer and not know it until it's really late in the game. (Find a list of symptoms to watch for at the end of this column)
That's why Hope is singing on the trail.
Gynecologic cancers don't have a movement attached to them like breast cancer, she told me when we talked recently in her office near Providence Alaska Medical Center.
"There is silence around these types of cancers because they are below-the-belt cancers and there's a certain amount of embarrassment around discussing women's reproductive organs," Hope said.
But there is a quirky rock band touring the country that's dedicated to "bringing noise" to the cause. It's called No Evidence of Disease. Hope is one of the lead singers. She practices her songs while she runs.
She can remove tumors with robotic surgery and prescribe chemotherapy. But music is another tool that can help save women's lives, she said. Giving women information about what to watch for can save lives. Without information, it's " later detection, later diagnosis, lower chance of cure," she said.
Another reason for less awareness about gynecologic cancers: There isn't a strong survivor moment like with breast cancer, she said. That's in part because there are fewer long-term survivors.
The other band members — singer/guitarist John Boggess, drummer Nimesh Nagarsheth, bassist Rusty Robinson, lead guitarist Will Winter and guitarist/mandolin player John Soper — are also gynecologic oncologists. They live in Oregon, North Carolina, New York and New Orleans. Rehearsals get complicated. I'll come back to that later.
No Evidence of Disease, aka N.E.D., will play in Anchorage on Saturday at the Tap Root at 9 p.m. It's part of a weekend of events dedicated to raising awareness about gynecologic cancers and people living with them, put on by a volunteer organization that Hope helped to start called Let Every Woman Know Alaska.
N.E.D. started on a whim in 2008. The doctors, who were recreational musicians, came together to entertain other doctors at a conference. But then they began writing their own songs. A small label, Motema, picked them up. A New York producer, Mario McNulty, helped them put together their first album. The first time he heard them play, it didn't go so well, Hope said.
"His head went under the desk; I think he might have, like, had a seizure. He was, like, 'How are we going to make these middle-aged doctors into rockers?' He was like, 'No way.' "
Somehow they made it work. They recorded one album, then another. They began touring the country, making headlines wherever they went. They rehearsed and wrote music over Skype and held marathon practice sessions before their shows. Their story caught the interest of Spark Media, a documentary film production company. The band members became the subject of a film, also called "No Evidence of Disease," that followed them and their patients over three years. In 2010, in the middle of the filming, Hope moved to Alaska.
No Evidence of Disease plays at the Bear Tooth Sunday, Feb. 3, at 7:30 p.m., followed by a live concert and a musical tribute to cancer survivors.
N.E.D.'s music might be described as indie rock. Their audiences are mainly women, many of them cancer survivors, who are in their 50s and 60s. They do a tribute number where they invite cancer survivors to come onstage with cardboard signs that have descriptions of their disease on one side and messages of hope on the other. I watched a tribute in an advance copy of the documentary (it has not yet been released). It tore my heart out.
Another moment in the film that struck me was when a patient, a mother who looks to be in her early 50s with advanced ovarian cancer, is sitting in a hospital bed, getting chemotherapy. She's wearing a wig and she's skinnier than she was in previous scenes. She's flipping through the liner notes from an N.E.D. album. The notes give specific information about cancer symptoms.
"I wish I knew about these symptoms 10 months ago, 12 months ago, a year," she says, breaking into tears.
"If I knew this, I might not be sick."
Hope's clinical nurse manager, Gwendolyn Carlson, is a survivor of endometrial cancer. She told me she wouldn't have paid attention to her symptoms — bleeding between periods– except that she happened to be in nursing school studying it at the time. Her cancer was caught early, she said. It's been more than 15 years.
I asked how often Carlson talks to patients who didn't realize that their symptoms were symptoms of cancer. "Almost every single patient says, 'How would I have known?' "
I talked to one of Hope's patients, Nancy Morgan, the other day while she was getting chemo at the Providence Infusion Center. Morgan is a retired social worker, a mother, a wife, and an avid quilter. She has advanced uterine cancer. Her first symptoms, abnormal bleeding, came in February. After many tests and a hysterectomy, her cancer was diagnosed in May. By November, she'd completed her treatments and was feeling great, she said.
But then, in December, she got news her cancer is back. It was devastating, she said.
"I can talk about it right now sitting with you but two weeks ago I couldn't have had this conversation," she said.
Morgan plans on going to the concert and seeing the movie, as long as she has the energy. Having cancer makes her want to give back and to share her experience, she said. Hope encouraged her to talk with me.
"Pay attention to your body," she said. "Maybe you don't exactly (know) what's going on but have it checked out."