LET EVERY WOMAN KNOW PRESS RELEASE – January 22, 2014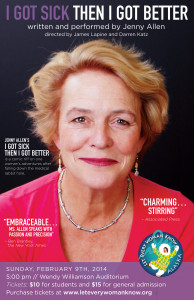 "I Got Sick Then I Got Better," a one-woman show written and performed by nationally-recognized writer, actress and ovarian cancer survivor Jenny Allen, will be part of the second annual Let Every Woman Know – Alaska Gynecologic Cancer Awareness and Arts of Healing Weekend taking place Feb. 7-9 in Anchorage.
Allen will travel from New York City to perform the piece at the Wendy Williamson Auditorium on Sunday, Feb. 9.  The comedic monologue follows her adventures "down the medical rabbit hole," as she is diagnosed and treated for ovarian cancer. Allen connects with her audience and "speaks with passion and precision," according to a review in the New York Times.
Allen will also be facilitating the "Writing as a Form of Healing" workshop as part of the Foundation for Women's Cancer Survivor Course, hosted by local non-profit Let Every Woman Know during the awareness weekend. Held at the Providence Cancer Center, the course is free and open to gynecologic cancer survivors, friends, family, supporters and the medical community. It will offer lectures given by nationally recognized gynecologic oncologists, as well as support groups, experiential learning and breakout workshops.
The awareness weekend will also include a First Friday art showcase and a benefit concert. The art showcase will feature artists whose lives have been touched by cancer and will be held at the Blue Hollomon Gallery on Friday, Feb. 7. The Rhythm Heals Concert will be held on Saturday, Feb. 8, at the Anchorage Museum, and will feature local musicians Emma Hill, Anna Lynch, Amy Lou Hettinger, Sophia Street and Adele Morgan. The performance will benefit gynecologic cancer support and awareness programs specifically for Alaska women.
"I Got Sick Then I Got Better," directed by James Lapine and Darren Katz, is on Sunday, Feb. 9 at 5 p.m. at the Wendy Williamson Auditorium. Tickets are $15 for general admission and $10 for students. The Rhythm Heals Concert is on Saturday, Feb. 8, at 7 p.m. at the Anchorage Museum. Tickets are $20.
Let Every Woman Know – Alaska is dedicated to gynecologic cancer awareness through the arts, community and education. Gynecologic cancers claim the lives of thousands of women every year but many don't know the signs and symptoms of these cancers. Raising awareness can save lives. For more information and a full breakdown of event information, times and locations, or to purchase tickets, visit www.LetEveryWomanKnow.org.